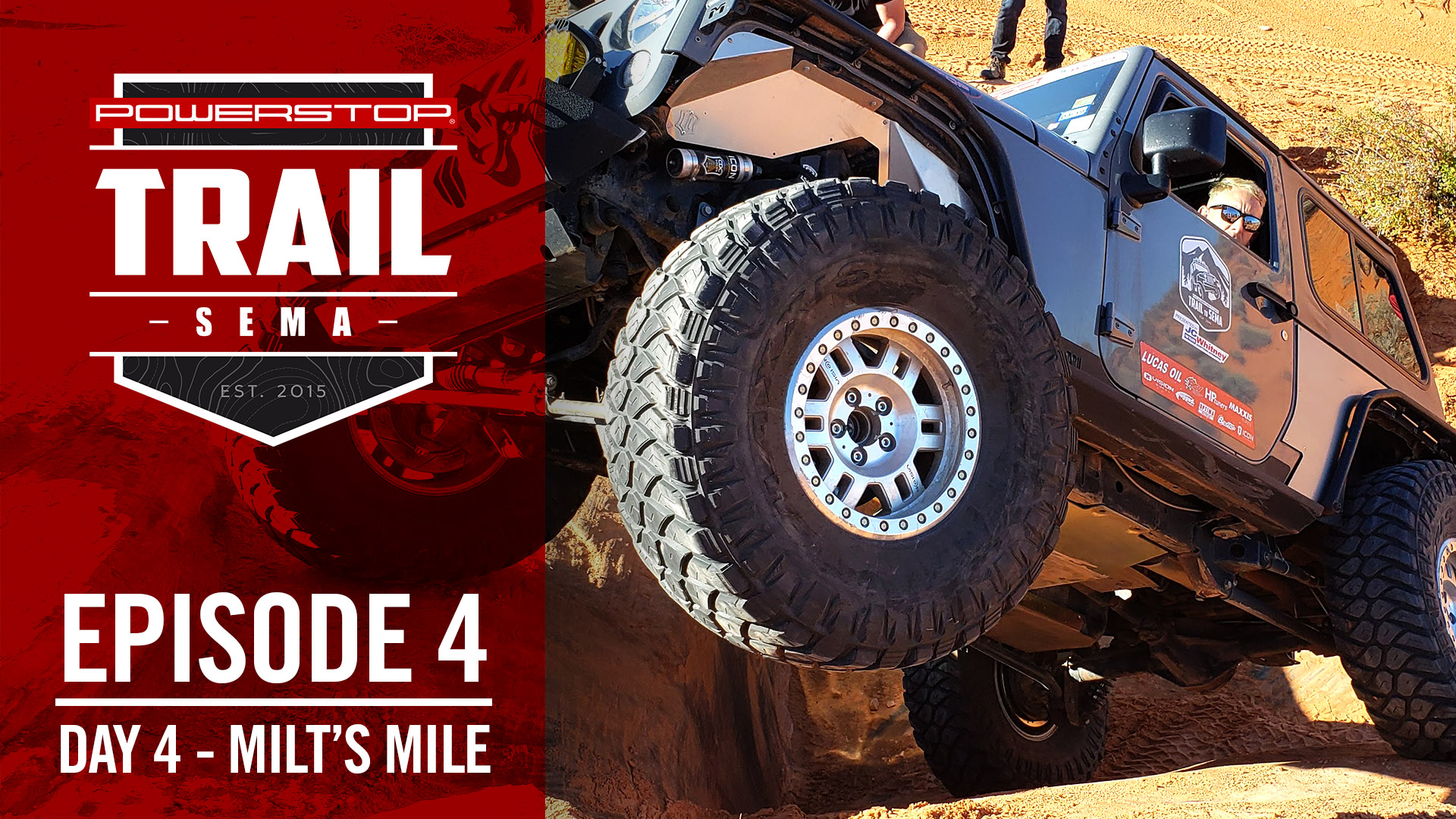 #TrailToSEMA – Day 4 "Milt's Mile"
In this episode we have made our way from Moab to St George, UT and to the off-road playground known as Sand Hollow. Sand Hollow is an open book for off-roaders, there are unlimited possibilities… If you think you see a line up an obstacle, then you make that your line. We stopped in at Dixie 4 Wheel Drive's main location in St. George to grab some Jeep flags and got the chance to run Milt's Mile with the man it was named after Milt Thompson.
The scenery on Milt's Mile is breathtaking as the trail traverses back and forth through a canyon taking advantage of the natural trail that has formed in the center. The Mile is rated a 7 and offers something for everyone which was great for members of our crew that were new to the area. Although they were quick to learn that the terrain at Sand Hollow has a level of traction that is unmatched anywhere, if you can point your Jeep up something there is a good chance your tires will grip.
This level of grip can also break parts or foster some misplaced confidence as both Jason Lewis and Georges Brown found out. Jason pilots the only manual Jeep of the group and found the grip mixed with a little woo-pow to be too much for some of the OEM parts on his Jeep. Georges ran out of talent on a large ledge that some of the bigger Jeeps just walked straight up. He not only found the limits of his JLU Rubicon but also how easy it can be to render a vehicle with many computer controls inoperable.
Luckily for everyone, we had dinner lined up at Dixie 4 Wheel Drive that evening and the incredible Dixie team was able to help our stranded Jeepers out of their sticky situations.

Thank you to JC Whitney and all of the corporate partners and participants for making the PowerStop Trail 2018 a wild success!

Be sure to pay a visit to all of our corporate partners, and keep an eye out for a huge gallery of images from our 2018 adventure!
Lucas Oil
Maxxis Tires
Vision Wheel
Rugged Radios
Bestop
Icon Vehicle Dynamics
HP Tuners
RCV Performance Products
Optima Batteries