European Vehicles, Original Performance
Euro-Stop ECE-R90 Brake Pads
Fits your Year Make Model
Will not fit your vehicle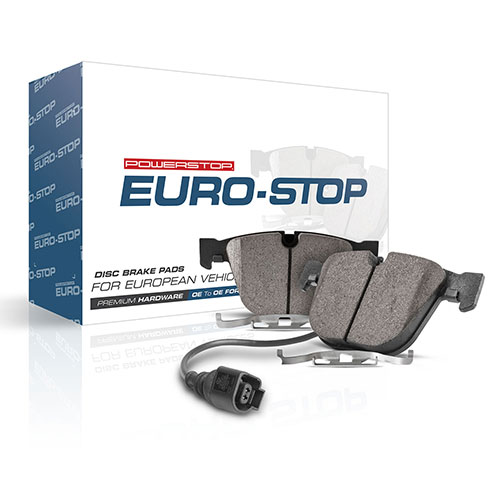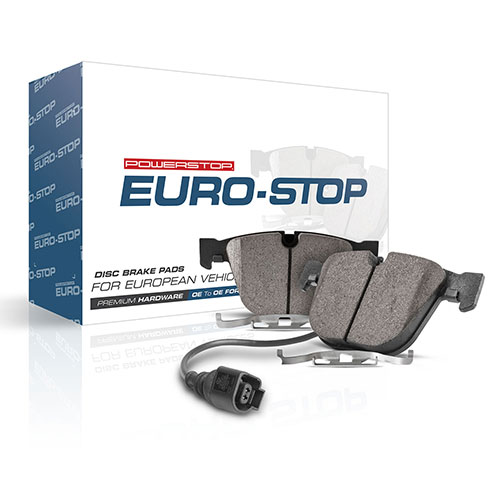 Everything You Need Is In The Box
Euro-Stop ECE-R90 Disc Brake Pads
Engineered to meet the strict ECE-R90 standards required throughout the European Union ensuring OEM performance and safety. ECE-R90 brake pads produce an equivalent amount of brake dust to the OE product. PowerStop also offers lower-dust pad and kit products.
Premium Stainless Steel Hardware Kit
Premium stainless-steel hardware included where applicable for a complete brake job (includes integral sensor).

Made in Europe
Euro-Stop
ECE-R90 Brake Pads
Affordable
Stock Replacement
for European Vehicles
Euro-Stop ECE-R90 Brake Pads
PowerStop is proud to offer Euro-Stop brake pads, developed for owners of high-end European vehicles who prefer original equipment brakes. ECE-R90 certification is required for all replacement brake pads and disc brake rotors sold throughout the European Union, and assures that brake components match OE tolerances and performance within 15%. Stainless steel hardware is included where applicable. Euro-Stop brake pads provide the ECE-R90-certified OE performance your European vehicle deserves.
Great For
Stock Replacement
Original Performance
European Vehicles
Designed to Perform as a Kit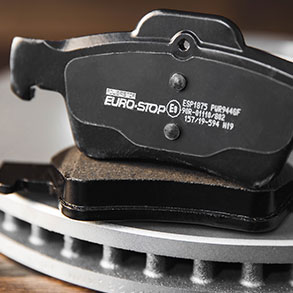 ECE-R90 Disc Brake Pads
Engineered to meet the strict ECE-R90 standards required throughout the European Union ensuring OEM performance and safety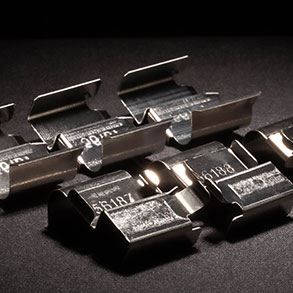 Premium Hardware
Premium stainless-steel hardware included where applicable for a complete brake job
WHAT YOU
NEED
TO KNOW
INSTALLATION OPTIONS

Take it to a Pro
Not confident in your abilities as a mechanic? No problem! We have a network of installers that are ready to help you out. Bring in your car and your brake kit, and they'll do the rest.
Find an Installer
BREAK-IN PROCEDURE

Break-In is critical for optimal performance
The break-in procedure is critical to brake performance. The reason for a proper break-in is to establish an even layer of friction material deposited on the rotors from the brake pads. It is very important that this initial layer of friction material is evenly distributed.
Break in your PowerStop Brakes as follows:
After installation, perform 30 decelerations from 30 mph to 5 mph with 30 seconds in between each deceleration for cooling. You should expect to smell some resin as the brakes get hot.

If you're forced to stop, complete the stop and either shift the vehicle into park or give room in front so you can allow the vehicle to roll slightly while waiting for the traffic light. The rotors will be very hot and holding down the brake pedal will force the brake pad to contact the rotor and possibly create an imprint on the rotor. This imprint may contribute to the creation of brake judder.

Once this is completed and the brakes have cooled to standard operating temperature, you may use the brakes normally. Never cool your brakes with water, as this can damage them.
WARRANTY & RETURNS

The PowerStop Difference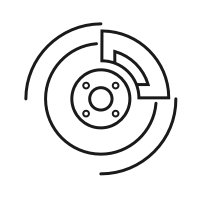 Brakes You Can Trust
We're bringing quality brakes to every vehicle on the road. Because when we can all stop better, the roads are a safer place.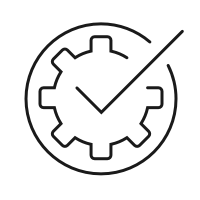 The Easy Way to Upgrade
Our brake kits have everything you need to get rid of weak brakes, and it's all delivered in one box.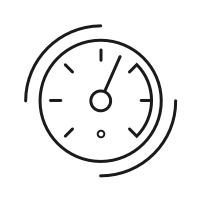 STOP QUICK. STOP CONFIDENT.
Every Euro-Stop brake pad meets ECE-R90 standards required throughout European Union.