Track, HPDE
Track Day Spec Brake Pads
Fits your Year Make Model
Will not fit your vehicle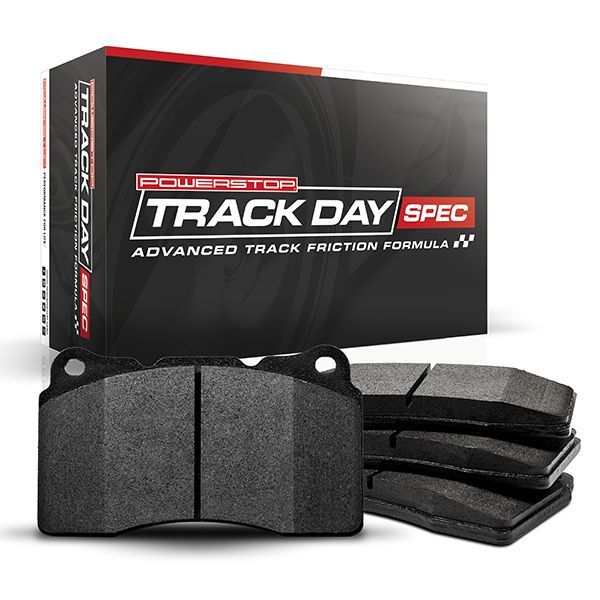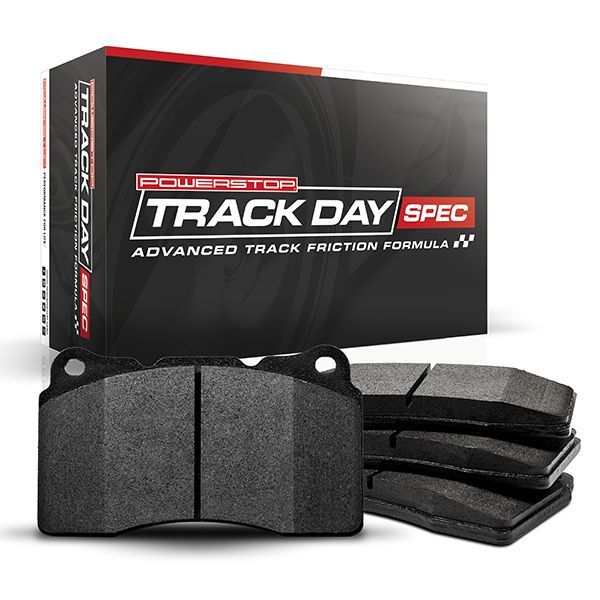 Everything You Need Is In The Box
Recommended For
Advanced Track Day Enthusiasts or Spec Racing Series
Aggressive Metallic Pad Compound
Extreme fade resistance at high speeds
Confidence & Control
Consistent pedal feel at every corner
Proven Performance
Official Brake Supplier of Radford Racing School (formerly Bondurant)
Track Day Spec
Brake Pads
High-Performance
Track Day
Track Day Spec Brake Pads
PowerStop is on a mission to deliver an easy and affordable way for any driver to upgrade their brakes - no matter where or how they use their vehicle. If you are an experienced track day enthusiast running R-Compound tires or are competing in a spec racing series such as Spec Miata and want the ultimate performance brake pads, then look no further than PowerStop Track Day Spec brake pads. The PowerStop research and development team spent countless hours matching the right pad compound to each individual vehicle platform so you don't have to spend countless track days figuring it out yourself. These platform-specific brake pads have an excellent coefficient of friction and resist fade during the rigors of your favorite track day event or competitive spec racing series.
Great For
SPEC Racing Series
Experienced Track Day Enthusiasts
Track Day Spec Brake Pads Features & Benefits
Metallic Compound
Specially formulated to resist fade and maintain the highest coefficient of friction regardless of temperature.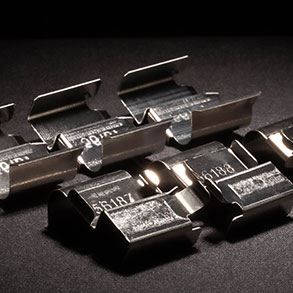 Premium Hardware
Premium stainless-steel hardware for easy, problem-free installation.
WHAT YOU
NEED
TO KNOW
INSTALLATION OPTIONS

Take it to a Pro
Not confident in your abilities as a mechanic? No problem! We have a network of installers that are ready to help you out. Bring in your car and your brake kit, and they'll do the rest.
Find an Installer
WARRANTY & RETURNS

30 Day Warranty

PowerStop LLC warrants this product to be free from defects in materials or workmanship for 30 days from the purchase date. The product, when properly installed in the type of vehicle prescribed, and in which a material or workmanship defect is found, will be exchanged free of charge if returned to the seller who is authorized to service this warranty. PowerStop LLC is not responsible for its products when they are subjected to misuse, abuse, improper application, improper installation, or accident. This 30 Day warranty excludes failure of components due to disc thickness variation (DTV*), usually indicated by brake pulsation. Normal wear is not covered by this warranty.
The PowerStop Difference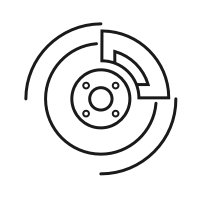 Brakes You Can Trust
We're bringing quality brakes to every vehicle on the road. Because when we can all stop better, the roads are a safer place.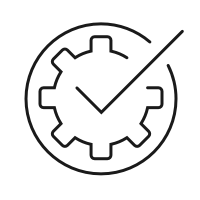 The Easy Way to Upgrade
Our brake pad sets have all hardware included to help you get the job done.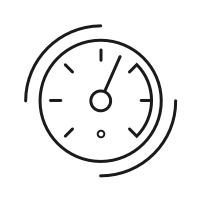 STOP QUICK. STOP HARD.
Our Track Day Spec brake pads use an aggressive metallic formula to provide extreme fade resistance at high speeds.