High GVW, Medium Duty, Fleet Upgrade
Z47 Medium Duty and Fleet Carbon-Fiber Semi-Metallic Brake Pads with Hardware Kit
Fits your Year Make Model
Will not fit your vehicle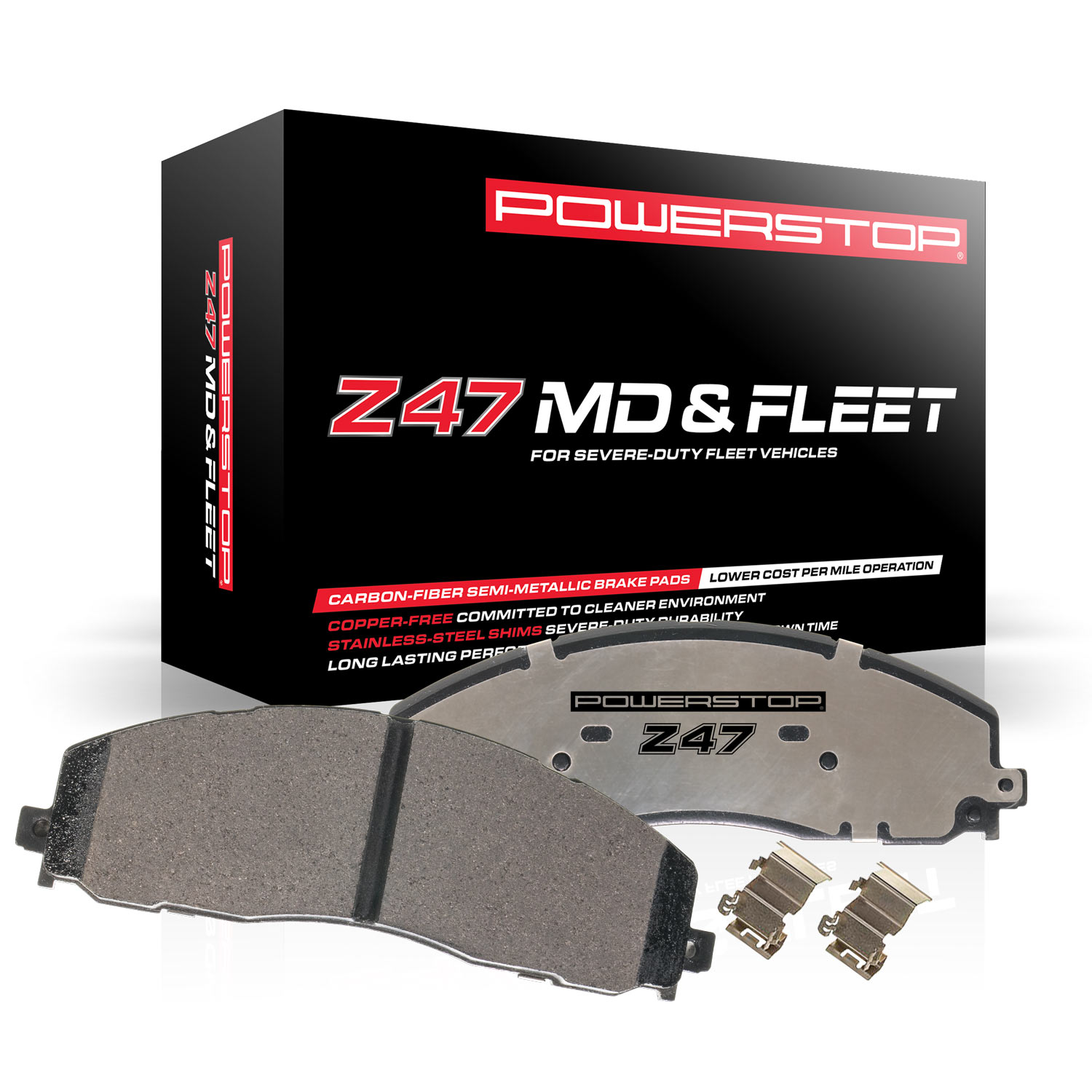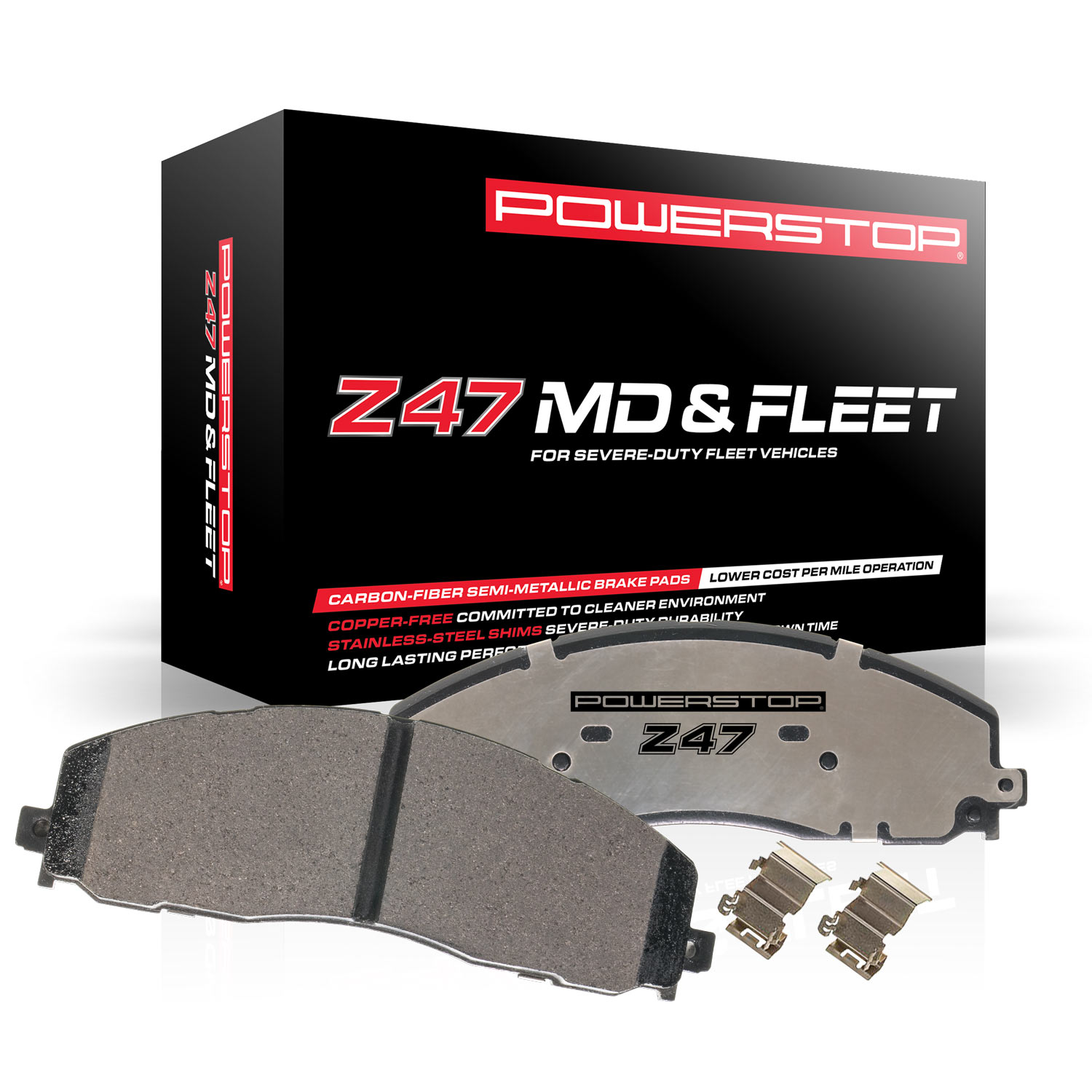 Everything You Need Is In The Box
Z47 Carbon-Fiber Semi-Metallic Brake Pads
Severe-Duty stopping power designed for medium duty applications
Mechanical attachment of friction material
Maximum shear resistance
Premium Stainless-Steel Shims
Better heat dissipation & virtually noise-free braking
Premium Stainless-Steel Hardware
Z47
Medium Duty and Fleet Carbon-Fiber Semi-Metallic Brake Pads
SEVERE-DUTY UPGRADE
FOR YOUR MEDIUM DUTY
AND WORK VEHICLE FLEET
Z47 Medium Duty and Fleet Carbon-Fiber Semi-Metallic Brake Pads with Hardware Kit
PowerStop Z47 MD and Fleet semi-metallic pads are designed as an upgrade over stock brakes to provide long-lasting performance for vehicles running full GVW on a daily basis. These brake pads are made with a semi-metallic formula, infused with carbon-fiber, to strengthen the compound and provide maximized uptime and reduced cost-per-mile for medium duty and last mile fleets. Friction is mechanically attached to the backing plate for maximum shear resistance and durability. Premium stainless-steel hardware is included with Z47 brake pads, making it easier to complete your brake job. Use Z47 MD and Fleet brake pads to give your severe-duty fleet vehicles extreme stopping power.
Great For
Fleets Running Gross Vehicle Weight
Medium Duty, Work Trucks, Municipality Vehicles
Frequent Stops & Heavy Loads
Class 4-7 vehicles
Z47 Brake Pads Features & Benefits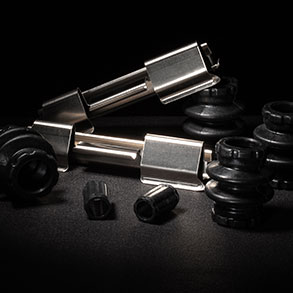 Premium Hardware
Premium stainless-steel hardware and pin bushing kit for easy, problem-free installation.
Mechanical Retention
Friction mechanically fused to backing plate for maximum shear resistance.
Carbon-Fiber Semi-Metallic
Carbon-fiber semi-metallic friction formula for long-lasting performance under wide range of operating conditions.
Stainless-Steel Shims
Stainless-steel shims allow better heat dissipation and noise-free braking.
WHAT YOU
NEED
TO KNOW
INSTALLATION OPTIONS

Take it to a Pro
Not confident in your abilities as a mechanic? No problem! We have a network of installers that are ready to help you out. Bring in your car and your brake kit, and they'll do the rest.
Find an Installer
BREAK-IN PROCEDURE

Break-In is critical for optimal performance
The break-in procedure is critical to brake performance. The reason for a proper break-in is to establish an even layer of friction material deposited on the rotors from the brake pads. It is very important that this initial layer of friction material is evenly distributed.
Break in your PowerStop Brakes as follows:
After installation, perform 30 decelerations from 30 mph to 5 mph with 30 seconds in between each deceleration for cooling. You should expect to smell some resin as the brakes get hot.

If you're forced to stop, complete the stop and either shift the vehicle into park or give room in front so you can allow the vehicle to roll slightly while waiting for the traffic light. The rotors will be very hot and holding down the brake pedal will force the brake pad to contact the rotor and possibly create an imprint on the rotor. This imprint may contribute to the creation of brake judder.

Once this is completed and the brakes have cooled to standard operating temperature, you may use the brakes normally. Never cool your brakes with water, as this can damage them.
WARRANTY & RETURNS

90 Day / 3,000 Mile Warranty

PowerStop LLC warrants this product to be free from defects in materials or workmanship for 90 days from the purchase date or 3,000 miles of use, whichever occurs first. The product, when properly installed in the type of vehicle prescribed, and in which a material or workmanship defect is found, will be exchanged free of charge if returned to the seller who is authorized to service this warranty. PowerStop LLC is not responsible for its products when they are subjected to misuse, abuse, improper application, improper installation, or accident. This 90-day/3,000-mile warranty excludes failure of components due to disc thickness variation (DTV*), usually indicated by brake pulsation. Normal wear is not covered by this warranty.
The PowerStop Difference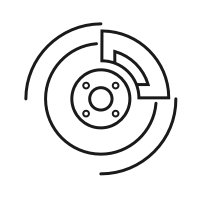 BRAKES YOU CAN TRUST
Leveraging our brake expertise to introduce a fleet solutions for medium duty, last mile, and other work vehicles that keep North America moving!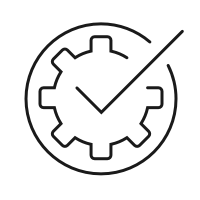 THE EASY WAY TO UPGRADE
Our brake pad sets have all hardware included to help you maximize vehicle uptime.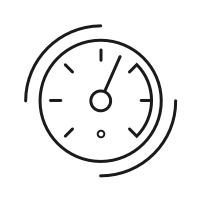 SEVERE-DUTY PERFORMANCE
Durability for hydraulic disc brake vehicles running full GVW on a daily basis.